TEAM INFO
TEAM MOTO
AIM LOW!
Becasue were better than you and we Know it!
Who we are.
Everyone in the 4th GA Loves to play Paintball, but we enjoy playing Honest and Safe Paintball even more. No one on the Team believes that cheating in any way can help out, because it only makes you a worse player. Every one on the 4th plays Hard Honest ball and thats the way we hope our opponents play as well. Safety is a strong issue when it comes to Paintball, because the image of Paintball has become so twisted, to the point that a lot of regular people think that the sport we love so much is a Violent and Dangerous Game. To combat this, we all play as safely as we possibly can and inform the regular public about just how safe this SPORT really is. Everyone on the team belive's strongly in Integrity and Honor. But above all else we all play Paintball for a single reason to have FUN, which is why we started this team, TO HAVE FUN!!!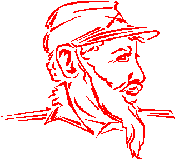 Where We Come From.
We on the 4th GA, above all else, like to have a good time. We enjoy doing things different from other teams, which is a reason we named the Team after a Civil War Confederate Infantry Regiment. Now please understand we dont go into extremes with that, but we do keep it in minds when we make a team oriented decisions.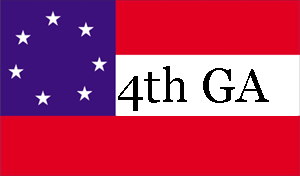 The team flag is designed directly after the real 4th GA's Regimental Colors.
Interested in Joining???
The 4th GA is always looking for new members, and has a really easy way to join.
First Bosshogg- or any member for that matter, and find out where we're playing our next Game at.
Email at bosshogg4thga@yahoo.com
Then SHOW UP ready to play.
Your pretty much on the team now, all you have to do is get through one game without getting a REF punch and let the Team see how you play, after that you're on. That's it, pretty easy Huh.